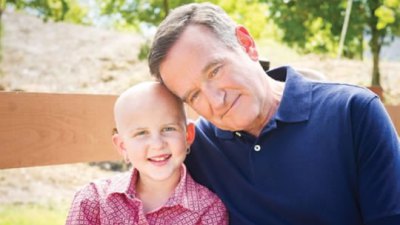 Like everyone, today we are greatly saddened by the news of the loss of Robin Williams, a legendary comedian, amazing humanitarian and person.
CNN released this statement today:
"Robin Williams — who first made America laugh and eventually touched "every element of the human spirit" in a remarkable range of performances — died at his Northern California home Monday."
Robin was very active with numerous organizations, from USO Tours to St. Jude Children's Research Hospital, always giving of himself and never taking.  He lived a life that would have seemed perfect but in reality he suffered like 60 million other Americans, with severe depression, which ultimately played a heavy roll in his death.  The details of his passing were released today, which honestly contained more information than most of us needed to know.  The details surrounding his death are not important, what is important are the lives he has touched.
President Barack Obama's statement sent from the White House summed it up:
"Robin Williams was an airman, a doctor, a genie, a nanny, a president, a professor, a bangarang Peter Pan, and everything in between.  But he was one of a kind. He arrived in our lives as an alien — but he ended up touching every element of the human spirit.  He made us laugh.  He made us cry.  He gave his immeasurable talent freely and generously to those who needed it most — from our troops stationed abroad to the marginalized on our own streets."
In tragedies such as this, it is very difficult to understand the tough questions like why?  Could anyone have helped or prevented this?  CNN dedicated an hour long program for him last night in place of the Sean Hannity show.  While interviewing Larry King over the phone, they touched on a very important fact.. that millions of Americans are suffering debilitating depression like Robin did.  Their suggestion?  Call someone and see how they are doing.  Call someone and tell them that you love them.
He suffered deeply and will be missed deeply.
Today we honor the great things that he did, particularly the awareness and money he raised for pediatric cancer research at St. Jude Children's Hospital.  St. Jude released this statement today:
"Today the world lost an iconic man and entertainer, and St. Jude Children's Research Hospital lost an incredible friend and supporter. We send our deepest sympathies to the family and loved ones of Robin Williams.
Mr. Williams generously gave his time to raise awareness and funds for St. Jude and for our patients battling childhood cancer. His humor brought bright smiles and laughter to our patients and families and his generosity deeply touched the hearts of all who knew him. He and his family remain in our thoughts and prayers."
We couldn't have said it better.
There are hundreds of amazing stories about the work Robin did over the past 4 decades of his career being told on the news today.  He seemed to have an endless supply of energy and energized everyone who came near.  He touched the lives of so many, many who will miss him deeply.
We at DCACancer.org never had the honor of meeting Robin but he was one of the cures for our stress in the office.  Dealing with so many people in pain can be overwhelming at times and we regularly come together as a team for special events like movie night (in the afternoon).  His movies made us laugh, they made us cry, but most importantly they helped us escape reality and live in his make-believe world.  He will be greatly missed by us as well.
Statements and Tweets From Famous People
Comedian Steve Martin tweeted, "I could not be more stunned by the loss of Robin Williams, mensch, great talent, acting partner, genuine soul."
Former CNN host Larry King said he would remember Williams as "a genuine caring guy.  Not just a funny man, but a guy who cared about people."
"Happy Days" star Henry Winkler said it was "unimaginable that this is the reality today, that this incredible human being, incredible, delicate, funny, dramatic human being is gone."
Ellen DeGeneres tweeted "I can't believe the news about Robin Williams. He gave so much to so many people. I'm heartbroken."
Miley Cyrus tweets "I can't take the Robin Williams news. I've never cried over someone I've never met but I can't stop."
Rob Schneider: "Without #Robin Williams there wouldn't have been a Comedy scene in San Francisco, Robin paved the way. He was the best of all of us"
Brad Paisley "Devastated right now. Loved you Robin"
Goldie Hawn "Oh Robin…Our hearts are broken. Rest in peace darling. We loved you."
Ben Stiller "A tweet cannot begin to describe the hugeness of Robin Williams heart and soul and talent. This is so sad."
Rihanna "Heartbreaking news about the late Robin Williams. May his soul now be at peace!"
Kevin Spacey "Robin Williams made the world laugh & think. I will remember & honor that. A great man, artist and friend. I will miss him beyond measure."
Craig Ferguson "I am so sorry about Robin. He was sweet and generous and kind as well as a comedic genius. This is just terrible news."
.. and great advice from Jimmy Kimmel who tweeted "Robin was as sweet a man as he was funny. If you're sad, please tell someone."