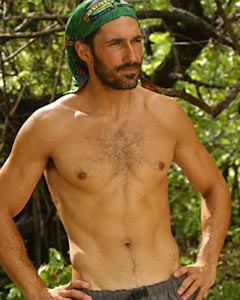 Survivor winner Ethan Zohn's is truly a survivor, but after 20 months of remission from cancer, he is faced with yet another battle with it.
On the third season of Survivor, Zohn won however a few years later underwent the toughest challenge of his life.. beating cancer. For 20 months he and his girlfriend Jenna Morasca, also a fellow TV show Survivor champion (sixth season), we're faced with the same challenge all over again.
"We really had moved on with our life and we had a lot of stuff we wanted to do that didn't involve cancer. I didn't think we'd have to do this again." said Morasca.
She also added, "I told him, 'We're going to put things in our calendar. We're going to make plans forever and cancer is going to have to work around our schedule.' "
A positive attitude and incredible determination
News of his relapse hasn't slowed him down thought. This Sunday Zohn still intends to run a 26.2 mile marathon in New York, as well as undergo a new "smart" chemo that involves SGN-35 which targets cancerous cells. After three months of chemo, Zohn will have to undergo a second stem-cell transplant (thanks to his brother).
In closing, Zohn says "Cancer isn't going to slow me down," Zohn promises. "I want people to know that you can still live a fulfilled life and move forward."
Survivor winner, cancer survivor, marathon runner, and a man with a winning attitude.