In recent news from the Associated Press, three medical groups recommend new annual lung cancer scanning guidelines for older groups of current or former heavy smokers.


These recommendations apply only to people between the ages 55 to 74 that have, or currently are, heavy smokers.  This will make approximately 8 million Americans eligible for screening and is expected to prevent approximately 4,000 lung cancer deaths per year.  The low-dose CT scans provide more detailed images that regular X-rays can not, and can detect early stages of lung cancer.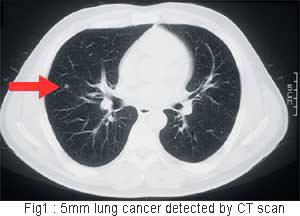 An estimated 226,000 Americans will be diagnosed with lung cancer in 2012 and is the leading cause of cancer deaths (approximately 160,000) in the U.S.
These new recommendations do not come without risk however.  During the six years in the National Cancer Institute study, approximately 80 lung cancer deaths were prevented but 16 study participants died after CT screenings, including 6 who did not have lung cancer.
Not all are in favor..
For years many lung cancer advocates have been aggressively promoting screenings for lung cancer, however many specialists and policy-makers have expressed reservations saying there is no evidence that lung cancer screenings save lives.
The U.S. Preventive Services Task Force, a government-appointed panel that issues public health guidance, is evaluating the study and recommendation however has said there was insufficient evidence to recommend CT scans, X-rays or sputum tests.
Dr. Otis Brawley, chief medical officer at the American Cancer Society, said his group will be issuing separate guidelines later this as ACS does not issue joint guidelines or endorse guidelines from other groups.  Dr. Brawley expressed concerns because some centers overstate benefits of CT lung cancer screenings, recommending the scans for low-risk patients who may not need the scans at all.
If you are within the recommended group and are interested, speak to your doctor about the risks and benefits.  Most screen centers charge around $300 for these scans and often aren't covered by insurance.
Back to DCA Cancer