We wish the "new high" was somehow a connection to the recent legalization of Marijuana in Colorado, US but sadly it is not.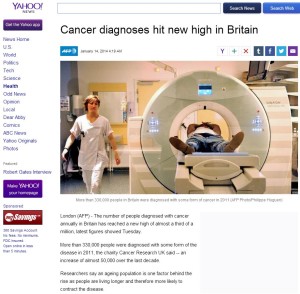 London (AFP) – The number of people diagnosed with cancer annually in Britain has reached a new high of almost a third of a million, latest figures showed Tuesday.
In Yahoo News today there was an article that discussed the staggering figures, showing a massive increase in cancer diagnosis in Britain in 2011.  The charity Cancer Research UK said more than 330,000 people were diagnosed with some from of cancer in 2011, an increase of almost 50,000 over the last decade.  This is a diagnosis rate increase of 35 percent from 1975 to 2011.
What Caused The Increase?
Chief executive Dr. Harpal Kumar believes age, alcohol consumption and weight gain are key factor these statistics.
"As the population ages, more people than ever before will be told: 'you have cancer,'" said Dr Kumar.
Statistics
Figures show the following statistics from Cancer Research UK:
2010: 329,547
2011: 331,487
There's still hope and these statistics shouldn't be discouraging as other figures show an increase in cancer survival.  The charity says that survival rates have doubled in the past 40 years thanks to improvements in prevention, diagnosis and treatments.  In 1990, 220 in every 100,000 people died of cancer but this fell by 22 per cent to 170 per 100,000 in 2011.
What Can Be Done?
In a response to these statistics, last September Prime Minister David Cameron announced a £400 million funding package to boost research and treatment for cancer as well as a new project to map the genomes of cancer patients.
Additional quotes from Dr. Harpal Kumar
"These figures reinforce the vital need for more research to better prevent, treat and cure cancer," added Kumar
"Research is the only way we a€™ll be able to reduce the devastating impact of the disease."
"One day we will beat cancer. The more research we do, the sooner that day will come."
Article Resources
http://news.yahoo.com/cancer-diagnoses-hit-high-britain-091933894.html
http://www.cancerresearchuk.org/