Previously we discussed the types of foods that should be in your daily diet to help reduce your risks for various forms of cancers. This is also important for people who may already have cancer as well. Today we are looking at cancer fighting snacks.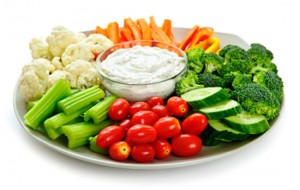 Veggies and Dip
Vegetables with a creamy onion dip is a great source of cancer fighting agents. Broccoli, cauliflower, cabbage and brussel sprouts are "cruciferous veggies" that are throught to prevent breast, lung and colon cancer. Different types of the hormone estrogen have been associated with both increasing and decreasing cancer risks, cruciferous veggies are said to help your body process estrogen and lower your risk.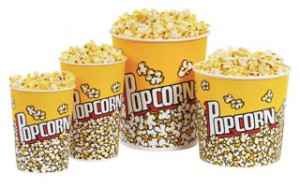 Mmmm Popcorn
Why popcorn? Popcorn is a whole grain which contains cancer fighting antioxidants. If you toss on a 1/2 teaspoon of sweet smoked paprika and a pinch of garlic powder, you've got one of the highest antioxidant snack in the "whole grain" category.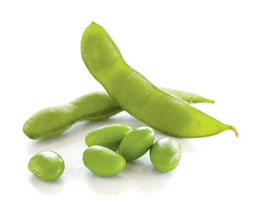 Edamame with Iced Green Tea
Green tea contains catechins, which was mentioned in the last article as being a fantastic antioxidant. Edamame is also a great cruciferous vegetable.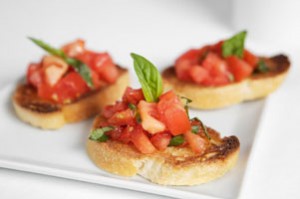 Tomato Bruschetta
Scientists believe that the lycopene found in tomatos is an antioxidant that protects against certain cancers. If you make bruschetta using a whole grain bread, you'll have a double winner.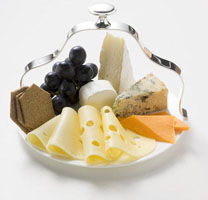 Cheese, Crackers, and Grapes
Reduced fat cheddar will help you hit your dairy/calcium requirements, while a handful of whole grain crackers will increase your fiber intake. If you add a dozen or so red grapes, you'll be reducing your risk for cancer, heart disease, as well as sharpening your brain. The skin of fresh red grapes contains a protective chemical called resveratrol which scientists say is incredibly important.
Back to Cancer Fighting Snacks – Part 1
Back to DCA Cancer